Who doesn't love the delectable goodness of fudge? The beauty of this tasty treat is that it's available in all manner of flavours, each of which is sure to put a smile on anyone's face. So, be sure to look out for a wide array of flavours when shopping for fudge.
Alternatively, if you're feeling creative, you can make your own fudge in any flavour you like! To that end, detailed below are the different types of fudge that you should know about. Hopefully, you can find some inspiration and come up with your favourite fudge flavour.
Potato Chip Pretzel Fudge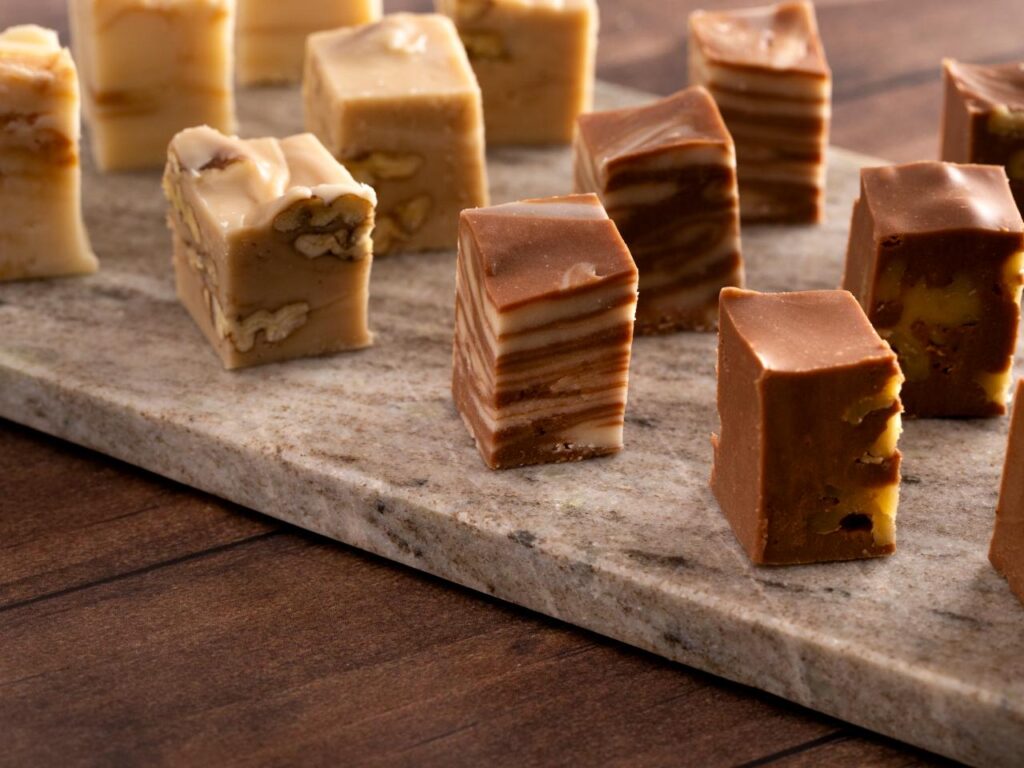 If salted caramel has taught us anything, it's that salt complements sweetness perfectly. To that end, sweet and chewy fudge that's packed full of salty potato chips and crunchy pretzels makes for the most amazing flavour combination. Each of these treats is great on its own, so why would they not all shine together? A delectable blend of crunchiness, creaminess, saltiness, and sweetness is assured, creating a party in your mouth!
M&M Fudge
Have you ever heard of anything more delicious than the contrast between crunchy M&Ms and chewy and smooth fudge? It's not just about the excitement of textures and flavours; the various colours of M&Ms mean that this fudge flavour is going to be beautifully decorated, which just makes them doubly appealing.
Kahlua and Cream Fudge
Next up is Kahlua and cream fudge, which is ideal for anyone who likes their desserts to be a bit boozy. Not only does the sweetness of Kahlua make it the perfect accompaniment to fudge, but it also results in a silkier and creamier texture. When combined with cream, too, the outcome is just heavenly. What's more, just a touch of booze makes this delectable fudge recipe just a little more exciting.
Sugar Cookie Fudge
Sugar cookies are perhaps some of the simplest treats out there; however, as the saying goes, less is sometimes more. As a result, the elegance and scrumptiousness of sugar cookies can perfectly be transformed into fudge. This sweet treat can be enjoyed all year round, but it makes for the perfect holiday dessert, especially when they're topped with Christmas sprinkles to make them that little bit more festive.
Gingerbread Fudge
Fall is well and truly underway, so you might be on the hunt for the perfect fall fudge flavour. The melt-in-your-mouth consistency of gingerbread means that it can be perfectly combined with fudge to craft a delightful flavour. What's more, the hint of spice within gingerbread perfectly balances the sweetness of fudge, resulting in a tasty subtle flavour to be enjoyed by all.
Red Velvet Fudge
red velvet is one of the most popular dessert flavours, with red velvet cookies, cake, and ice cream being in the spotlight. to that end, who's to say that red velvet fudge can't be a thing? not only is it gorgeous to look at, thanks to its red and white hues, but the gooey consistency of chocolate makes for a delightfully tasting treat. all of this, combined with indulgent fudge, you can't go wrong with red velvet fudge.
Rocky Road Fudge
Salted peanuts, marshmallows, and chocolate is the perfect flavour combination, and this is otherwise known as Rocky Road. If you're a fan of the popular ice cream flavour, you're sure to love the idea of Rocky Road fudge. It's not just the perfectly balanced flavour, but the combination of textures makes Rocky Road the ideal pairing for fudge.
Are you a fan of fudge? Which of the above flavours will you be trying next?